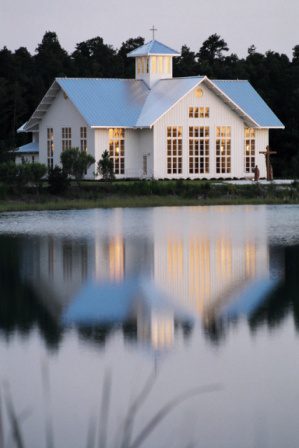 Saint James Chapel is the physical and spiritual center of Bethany Center. In the middle of St. James Chapel rests a simple marble altar. The altar where the sacrifice of the Eucharist is offered and received is appropriately the heart of our ministry of hospitality.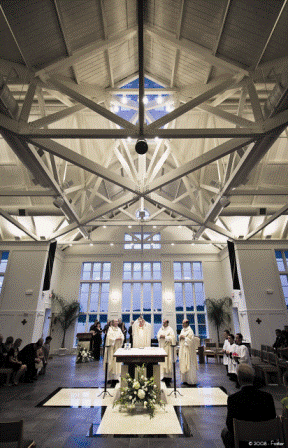 As you approach St. James Chapel, you are welcomed by magnificent bronze doors. The story depicted in the artistry of the metal work tells of Jesus calling us all to Him with holy and generous men and women leading the way. Passing inside, the natural calm of the lake and woodland setting becomes part of the interior drawn in by the open frame architecture, large windows and soaring ceilings. The chapel crucifix is placed outside of those windows on the shores of Lake Mary. As part of the prayer walk, the life-size crucifixion scene is the 12th station of the 14 Stations of the Cross that gracefully follow the water's edge.
Time spent at St. James Chapel in silence, song or worship is uniquely special. The feeling that you are in a special place becomes evident and explains why our beautiful, simple and holy chapel is the heart of Bethany Center.
Click here for a printable St. James Chapel Brochure
Click here for a Chapel Floor Plan
Click here for a slideshow tour of St. James Chapel
Helpful Hints
Make sure to reserve chapel times when you make your reservations
Please do not move any of the furnishings inside of St. James Chapel
All supplies to celebrate Eucharist are available
Built in PA system, and Lavaliere microphones
A high quality electric piano and music stands are included with all chapel reservations